COVID UPDATED : 2021 FIELD SEASON CANCELLATION
The MRP board of directors has cancelled our 2021 field season.
While several countries are making headway with vaccine distribution – many of our staff, students, and volunteers are not yet able to receive the vaccine in their country of origin. In addition, many of our associates, friends, and family in Belize have yet to receive a vaccine. At this time, Belize is still under COVID related curfew order and restrictions are still in place regarding social gatherings of 10 or more people (that are not from the same household.) (See
https://www.pressoffice.gov.bz/wp-content/uploads/2019/12/SI-No-9-of-2021-Public-Health.pdf
) It is expected that these COVID restrictions will remain in place until the majority of the citizens of Belize are vaccinated. The National Institute of Culture and History – Institute of Archaeology, who permits our work in Belize, has noted that due to all of the above circumstance – they will not be permitting any archaeological field schools this summer.

In order to safely gather at our basecamp in Belize for a field season – we would need all of our staff and participants to be vaccinated to avoid negatively impacting the communities we have worked with for the past 28 years. We would also want our associates in Belize to have the opportunity to be vaccinated (if they choose to) before undertaking a field season and, of course, we will require a permit from NICH/IOA to excavate. While great progress has been made re: COVID – it is simply too soon to gather for our 2021 field season. We are very disappointed to cancel, but it is in the best interest for all involved. We fully expect to return to work in 2022.

Summer 2022: Blue Creek Archaeological Project: Field School
The Maya Research Program (MRP) is a non-profit organization (501 C3) that sponsors archaeological and ethnographic research in Middle America. Each summer since 1992, MRP has supported archaeological research in northwestern Belize.
The Blue Creek Archaeological Project includes research at the sites of Blue Creek, Grey Fox, Nojol Nah, Tulix Mul, Tz'unun, and Xnoha, (You can read many MRP publications
here.
)

MRP has been instrumental in documenting and protecting numerous Maya sites in northwestern Belize. Over 3000 students and volunteers have participated in the project in the past 28 years. The current
Blue Creek project team includes faculty members and graduate students from over a dozen universities worldwide
and is affiliated with the University of Texas at Tyler.


The summer of 2022 marks MRP's Blue Creek Archaeological Project's 28
th
archaeological field season in northwestern Belize. MRP is proud to support a vast range of talented researchers from across the globe under this project's umbrella. Our research associates include not only archaeologists, but also soil scientists, geoarchaeologists, geographers, conservationists, cultural anthropologists, bioarchaeologists, and botanists. We invite you to join either our general archaeological field school or one of our specialized sessions.


From May to July of each year, MRP hosts multiple two-week sessions for students and volunteers at Blue Creek. The MRP general field school provides participants with hands-on training in the fundamentals of archaeological field techniques. Participants will gain training and experience in archaeological excavation methods, manual and digital recording techniques, artifact recovery, processing and analysis.

For more information on what to expect at MRP's archaeological field school - such as daily activities, housing, what to pack, etc - please review MRP's participant guide at the bottom of this webpage. (
You can download the guide here.
)

Scholarships and fellowships are available.
Students are strongly encouraged to apply for MRP's scholarships to offset their costs. The submission deadline is March 15, 2022.


2022 Season Dates will be announced shortly.
Enrollment Process:
The maximum number of participants for each 2-week session ranges from 15 to 20 students and volunteers. To enroll, the applicant should forward an
enrollment form
and
deposit
to the Maya Research Program. You can email these forms to Dr. Tom Guderjan at mrpinquiries@gmail.com or via postal mail to 1910 East Southeast Loop 323 #296, Tyler, Texas, 75701.


Cost:
A special first-session rate of $1500 is available to students currently enrolled in an accredited University or College.
The donation for a single two-week session for non-students is $1750 USD.

If more than one session is desired, the donation is $1200 for each additional session. (For instance, a student would pay $1500 USD for their first 2 week session and $1200 USD for their second 2 week session for a total of $2700 for 4 weeks.)
Students are encouraged to apply for a MRP scholarship to reduce their cost to $1900 for 4 weeks
.

A non-refundable deposit of $250 per session is required to hold your spot. Participants are responsible for their travel costs to Belize.

If a student wishes to receive academic credit, tuition costs (via the University of Texas at Tyler or their home institution) will apply in addition to the required donation to the Maya Research Program

For more information on what to expect at the MRP field school - such as daily activities, housing, what to pack, etc - please review MRP's participant guide below or
you can download the guide here.
Blue Creek Archaeological Project: Specialized Programs
The Maya Research Program offers specialized laboratory and field courses for students and volunteers in addition to the general archaeological field school described above. The specific study areas for the specialized laboratory and field courses are:

1.
Scientific Illustration

2.
Bioarchaeology

3.
Artifact Analysis and Conservation

4.
Photogrammetry and 3D Digital Modeling


Please contact the MRP for more information about these specialized training programs
(
817-831-9011 or mrpinquiries@gmail.com)
.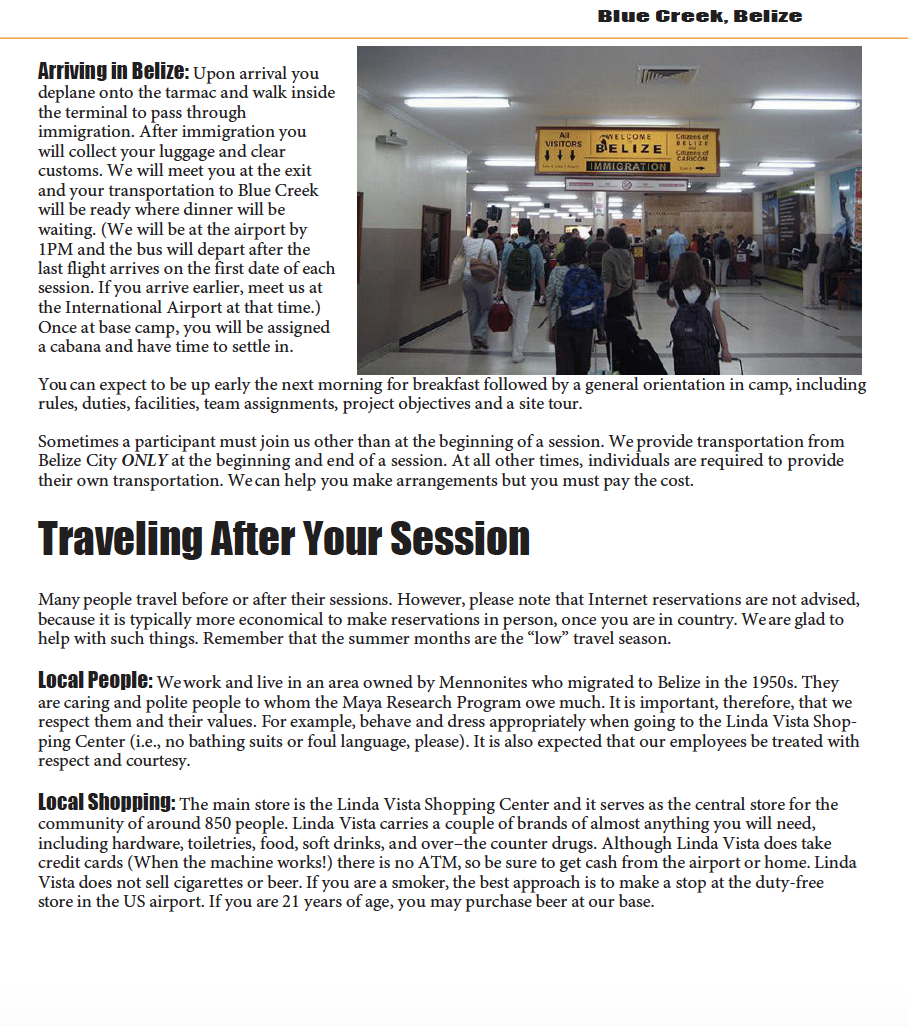 ________________________________________________________________________
Additional Information:

You can read numerous MRP publications are
here.

You can also download MRP's Participant Guide
here.
Interested in joining the team? Call 817-831-9011 or email Dr. Tom Guderjan : mrpinquiries@gmail.com